•
•
•
•

All the action is now at Ghosty.tv!
Ghosty.tv is a new site which covers all the projects that Ghosty is in, and will be updated much more frequently than this site.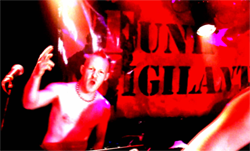 This site will stay up for archiving purposes and will occasionally be updated with new content as well.
Peace, my freaky friends!
•
•
•
•
Funk Vigilante's new single and music video "Today is the Day" is OUT NOW! Spread the Word and have a happy Apocalypse!!!
Funk Vigilante's debut record "Civil Disobedience" is a record of funk-metal protest music. It is a sonic mutation of rock, metal, industrial, reggae, hip-hop and of course, funk.
The band's signature sound is made up of heavy guitar riffs riding on a backbone of funky bass and drums, complimented by bursts of keyboards and samples. Ghosty Boy's unique voice powers each song with clever poetry, social commentary and humor. The hooks are often chanted by crowd back-up vocals, although some are sewn together with melodic harmonies.
From the funky party vibe of "Top of the World" to the passionate groove of "Holy Land" to the angry battle-cry of "Revolution", there is one theme that is a constant throughout the entire record, and that is the spirit of freedom.
"The seven songs on Funk Vigilante's first (and only) record, Civil Disobedience, are all winners. From the opening cackle of air raid sirens in the title track to the electronic beat down of "Riot Police," there isn't a dull second of music.
It's like having that bastard child of Parliament-Funkadelic, The Beastie Boys, and Metallica you've always wanted, even if you didn't know you wanted it in the first place."
-Brady Tighe, writer for The Navigator.
•
•
•
•
Worst President Ever
This is a song for the free people of the world.
George W. Bush has said that despite his dismal approval ratings and failed policies that history will have the final word on his presidency. We felt that we should do our part to make sure that history gets it right.
Funk Vigilante is a funk-metal band formed in the summer of 2008. We make funky protest poetry with a heavy dose of hardcore.
Please spread the video around if you like it.
Peace,
-Ghosty Boy-
- Civil Disobedience -
Welcome to Funk Vigilante's official website.
Funk V is a brand new 5-piece funk-metal band from Victoria, British Columbia. We've got the funky beats, the heavy guitars, and hip-hop influenced vocals. We play songs about peace and freedom because goddammit it just feels so good.
You can also check us out or contact us at the Funk Vigilante MySpace page, and don't forget to check back here as we will be updating this site with news, music, videos and live show updates as soon as it becomes available.
Peace.